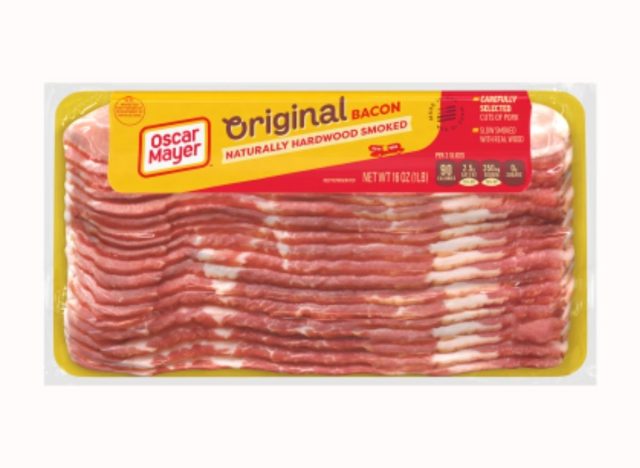 It's hard not to love bacon. Whether you enjoy it in the morning for breakfast, pile it high on a sandwich at lunch, or prepare your cheeseburgers with it, bacon is one of those ingredients that just makes dishes taste better. "On average, we consume approximately 18 pounds of bacon per person each year," says Lisa Statner, MS, RDN and Sodexo Clinical Dietician. However, just because we eat a lot of it doesn't mean it is necessarily good for us. For instance, Statner points out that most commercially available brands of bacon are cured with nitrites, salt, and sugar. "One of the downsides to nitrites is that when exposed to high heat during cooking they can become nitrosamines which have been known to cause cancer," she says.
Because of bacon's unhealthy factors, experts recommend thinking of bacon more as a condiment than a protein side dish. "In other words, use it sparingly and look for long strands of pink meat with a smaller amount of fat," Statner says. She also suggests avoiding burning the bacon, as to lessen the nitrosamine production caused by heat, and to also try an uncured, natural, or turkey bacon alternative instead.
To help you make better choices while browsing the bacon section of your local grocery store we compiled a list of the unhealthiest bacon options that you may want to avoid.
ONE SERVING: 2 strips, skillet cooked (19 g): 90 calories, 7 g fat (2.5 g saturated fat, 0 g trans fat), 350 mg sodium, 0 g carbs, 7 g protein
Oscar Mayer's Naturally Hardwood Smoked Bacon is not only packed with 350 milligrams of sodium per serving, but is also made with sodium ascorbate, an added nitrate. "When shopping for bacon, you may want to steer clear of bacon packaged with nitrates," shares Laura Gilstrap, RD, LD/N, Owner of LG Nutrition LLC. "Studies have shown increased risks of colon, kidney, and stomach cancer among people with higher ingestion of water nitrate and higher meat intake," she adds.
ONE SERVING: 2 strips, fried (24 g), 110 calories, 8 g fat, 3 g saturated fat, 470 mg sodium, 1 g carbs, 1 g sugar, 8 g protein
Danielle McAvoy, MSPH, RD, and Registered Dietitian with Strong Home Gym, advises that you also have to keep an eye out for "sodium nitrite" and "sodium erythorbate" in the product's ingredient list as they are linked to chronic diseases. Unfortunately, this Hormel option has both making this one of the unhealthiest bacons.
ONE SERVING: 2 strips, fried (13 g): 60 calories, 4.5 g fat (2g saturated fat), 170 mg sodium, 0 g carbs, 5 g protein
Although Dietz & Watson's Hickory Smoked Imported Gourmet Bacon has less sodium than other options on this list, it still is not a good choice because it has sodium phosphate and sodium erythorbate in it.6254a4d1642c605c54bf1cab17d50f1e
ONE SERVING: 1 strip, microwave cooked: 90 calories, 7 g fat (2.5 g saturated fat, 0 trans fat), 465 mg sodium, 0 g carbs, 6 g protein
Kunzler Thick Cut Sliced Bacon has a staggering 465 milligrams of sodium per one strip of bacon—that's nearly 20 percent of the daily recommended sodium intake. "Eating any food that is high in saturated fat and sodium can increase the risk of high cholesterol, high blood pressure, and heart disease," says McAvoy. "Choosing higher quality, uncured bacon and eating it in moderation can definitely help to reduce these risks."
ONE SERVING: 2 strips, pan fried: 80 calories, 6 g fat (2 g saturated fat, 0 trans fat), 380 mg sodium, 0 g carbs, 7 g protein
Instead of opting for this sodium-filled Hatfield bacon, go for a bacon that is center cut. McAvoy shares that "center cut bacon is higher in protein and lower in fat than regular cut bacon." Also, always be sure to eat this salty protein in moderation, center-cut or not.
ONE SERVING: 2 strips, cooked: 110 calories, 8 g fat (3 g saturated fat, 0 trans fat), 310 mg sodium, 0 g carbs, 10 g protein
Not only does Great Value's Hickory Smoked Bacon have high amounts of sodium and calories, but this Walmart brand's packaging doesn't give the buyer much insight into how the animal was raised. "Avoid any brands that don't disclose information about how the animals were raised, because it's likely that the pigs were given antibiotics or steroids," advises McAvoy. She also points out that you must keep protein quality in mind when picking out bacon. For starters, you want to purchase bacon from companies that do not give their pigs antibiotics, steroids, or hormones. "Organic is best, but 'no antibiotics ever' is a good option, too," she adds.
ONE SERVING: 1 strip, fried: 60 calories, 5 g fat (2 g saturated fat, 0 trans fat), 220 mg sodium, 0 g carbs, 3 g protein
This Smithfield bacon clocks in at over 60 calories per serving and contains both sodium erythorbate and sodium nitrite, making it one of the unhealthiest choices for bacon lovers. If you would like to buy healthier bacon, Gilstrap suggests purchasing it directly from a local farmer. "This allows you to talk to the farmer and to understand what is actually going into your food," Gilstrap says. "Check out your local farmers markets or do a quick Google search to find local sources."